Car Seat Safety at UVES
June 13, 2023 | 3:20 pm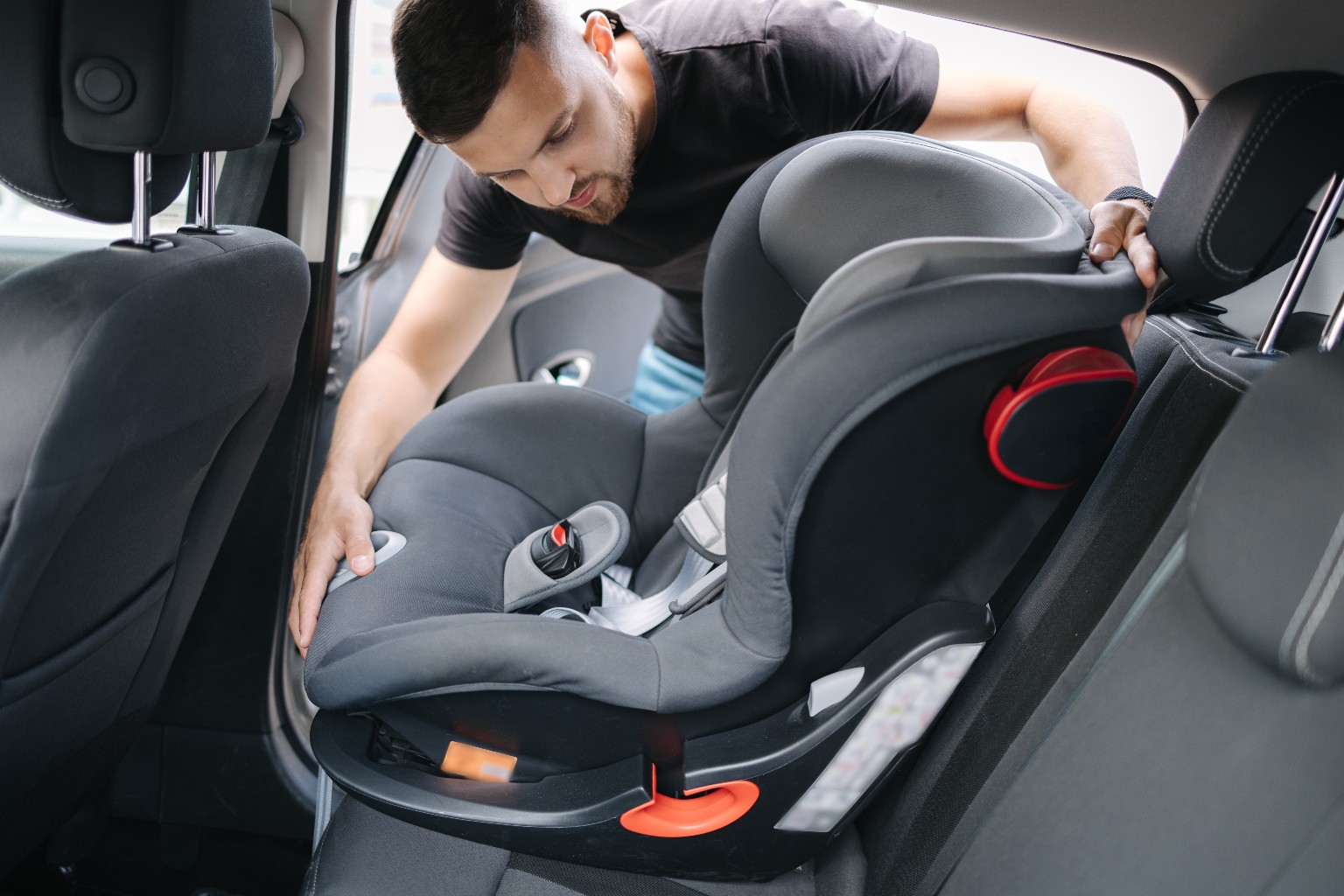 At UVES, we have four important reasons why you should stop by one of our sites and have your child's car seat fitted to your vehicle. We want our roads to be as safe as they can be for you and your children. Please make sure that you are aware of car seat safety restraints laws in New York state. By using our car seat safety program, we can help ensure your family's safety.
Professionals – UVES is lucky to have five Nationally Certified Child Passenger Seat Technicians (CPST). Their job involves installing and inspecting your child's car seat to ensure it is properly installed and ready for the many rides ahead.
Safety – Your child's safety is a priority, and we make sure your car seat is properly installed. Without proper installation, your child's seat may malfunction, which may lead to seat ejection and spinal and head injuries. If your child does not meet the age, height, and weight requirements, it is against the law to have them ride in a car without a seat that is properly fitted for them.
Secure Installations – Do not take the risk and try to install a car seat without CPST help. Our professionals are more than happy to help and make sure you know that your child is safe while in the car with you.
Education – Alongside helping with installations and inspections, our CPST will also provide education to ensure that the parent or caregiver understands how to fit the child into the seat and address other general safety concerns.
At UVES, we want to be assured that you and your child are safe while driving, and we hope that by using our CPST, we can ensure your safety as well as your children's, especially when it comes to driving on our roads. We firmly believe that using our Child Passenger Safety Technician (CPST) will significantly enhance your safety and that of your children. By relying on our expertise and guidance, we aim to provide you with peace of mind during every journey you take together.
Click here to register for our Child Passenger Safety Program!
The Symbolism Behind the UVES Logo
June 1, 2023 | 5:15 pm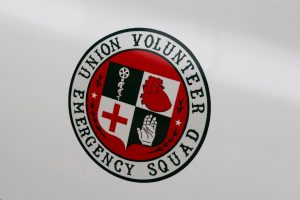 Every organization has its emblem, a visual representation that encapsulates its values and mission. For Union Volunteer Emergency Service (UVES), our logo holds a deep significance, reflecting our service to the community. Each element represents a founding value of UVES
A Proud Heritage
The UVES patch and decal were thoughtfully designed in 1973 by Bruce Shouty, a volunteer EMT and talented artist. Shouty's creation pays homage to our history and represents various aspects that define our organization.
Green – A Color of Pride
Green has always been the color proudly worn by the UVES members. Symbolizing growth, renewal, and vitality, green reflects our commitment to the well-being and progress of the community we serve.
Western Style Lettering
The Western-style lettering in the logo is a nod to the geographical location of the UVES. As part of Western Broome County, UVES is based in the Town of Union, where we first began our invaluable work. The lettering signifies our origin and connection to the western part of Broome County.
Olive Branches – A Symbol of Peace and Assistance
Situated on either side of the logo are two olive branches, representing the UVES' dedication to peace and providing help to those in need. These branches stand as a reminder that the organization is here to bring comfort, solace, and aid to individuals during emergencies.
Stars – Homage to the Town's Villages
The two stars placed in the east and west positions within the logo are a tribute to the two villages located within the Town of Union. Serving both villages, UVES is committed to ensuring ensures that emergency services reach all corners of the region.
Medical Symbol and Red Cross
The medical symbol, featuring a tire with a wheel on top, signifies the mobile emergency services provided by UVES. Always ready to respond swiftly to emergencies, our ambulances are equipped with advanced life support technology, including paramedics, ensuring the highest level of care.
The inclusion of the Red Cross emblem pays homage to the organization's early training days. UVES owes its foundational training in standard and advanced first aid, as well as CPR courses, to the American Red Cross. This symbol stands as a reminder of the strong partnership between UVES and the Red Cross, as well as the unwavering commitment to providing top-quality medical assistance.
Heart – A Symbol of Compassion
The image of a heart within the logo signifies UVES's early specialization in addressing heart emergencies, such as heart attacks. As the organization evolved, our scope of services expanded to encompass advanced life support and paramedic care. The heart symbolizes our continued dedication to saving lives and ensuring the well-being of those in our care.
White Glove – A Helping Hand
The white-gloved hand depicted in the UVES logo serves as a visual representation of our commitment to reaching out and providing assistance to those in need. Just as a gloved hand offers reassurance and care, UVES extends our support, ensuring that no one faces emergencies alone.
The UVES logo is a testament to the rich history, values, and services provided by our organization. From our proud green color to the symbolism of peace, assistance, and dedication, each element within the logo tells a story of compassion, professionalism, and the pursuit of excellence. For over five decades, UVES has had the honor of being a vital lifeline for the Town of Union, and our logo stands as a powerful representation of our commitment to our community.
Celebrating 50 Years of Service
June 1, 2023 | 5:15 pm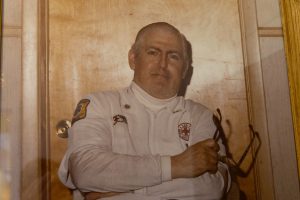 Union Volunteer Emergency Service (UVES) has stood as a beacon of hope and assistance in the Town of Union for the past 50 years. What began as a response to a tragic incident in 1970 has evolved into a vital emergency service that provides life-saving care. From humble beginnings, UVES has grown into a respected institution, adapting to the changing healthcare landscape and expanding its services to meet the growing needs of the community.
Early Years
The journey of UVES began on a fateful day in 1970 when a community member fell on a sidewalk, suffering a broken hip, and enduring a prolonged wait for help. Recognizing the urgent need for an ambulance service in Union, a group of passionate individuals united and formed the Union Volunteer Emergency Squad in 1972. After months of rigorous preparation and training, UVES officially commenced operations on June 1, 1973.
Initially, UVES focused on serving the Town of Union, which accounts for approximately 80% of our work. However, our dedication to helping those in need extended beyond geographical boundaries, as we respond to emergency calls from anywhere we were needed. With a relentless commitment to our mission, UVES quickly gained a reputation for being fast-paced, efficient, and dedicated to providing timely assistance.
Growth and Adaptation
As UVES became an integral part of the community, the demand for our services surged, and we found ourselves handling an increasing number of emergency calls. Responding to this growing need, UVES expanded our fleet and transitioned from two full-time trucks to operating five trucks daily. To ensure our ability to meet the rising demand for services, UVES also increased our full-time staffing and continued to actively seek new team members.
We recognized the importance of keeping up with advancements in healthcare, so we embraced the introduction of advanced life support (ALS) techniques. With the integration of paramedics trained in advanced life support, UVES extended our capabilities to provide comprehensive emergency care comparable to that of a hospital setting. The ability to administer critical care on-site greatly improved the chances of saving lives, highlighting our unwavering dedication to preserving life in even the most dire circumstances.
A Community-Centered Approach
UVES firmly believes that our responsibility extends beyond responding to emergency calls. Over the years, we have developed and implemented several community outreach programs aimed at improving public health and safety. These initiatives include CPR training, a fall prevention program, car seat installations, and the senior-focused Carfit program. UVES understands that equipping community members with life-saving skills and offering preventive measures can have a profound impact on reducing emergencies and enhancing overall well-being.
Our Impact
The impact of UVES on the community cannot be overstated. With an astounding annual response rate of over 11,000 calls, we have been a constant source of support for the town's residents during their most challenging moments. Our commitment to providing timely assistance has saved countless lives and brought comfort to many families. Such a high volume of emergency response calls naturally comes with significant costs. However, through the generous support of community partners, donors within Union, and the town itself, UVES has been able to sustain our life-saving operations.
Looking Ahead
As UVES celebrates our 50th anniversary, we also look toward the future. The ever-evolving healthcare landscape presents new challenges and opportunities. We recognize the need for continued growth and adaptation to meet the changing demands of the community. With a forward-thinking approach, we acknowledge the emergence of community paramedics who will play a pivotal role in addressing primary care needs. By providing essential services and partnering with other healthcare providers, UVES is poised to continue making a significant difference in the lives of Union's residents for the next 50 years.
For decades, the Union Volunteer Emergency Service has been a trusted ally, ensuring that the people of Union receive the best care possible during their times of need. From our modest beginnings in 1973 to the multi-faceted emergency service we are today, UVES has grown and adapted, embracing new techniques, expanding services, and actively engaging with the community. Our unwavering commitment to excellence, dedication to ongoing education, and focus on saving lives have cemented our place as a vital institution in Union. As we reflect on the past and look to the future, one thing remains certain – UVES will continue to be there, providing life-saving care and support, as we've done for the past 50 years.