Celebrating 50 Years of Service
June 1, 2023 | 5:15 pm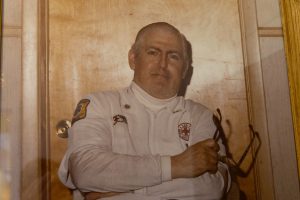 Union Volunteer Emergency Service (UVES) has stood as a beacon of hope and assistance in the Town of Union for the past 50 years. What began as a response to a tragic incident in 1970 has evolved into a vital emergency service that provides life-saving care. From humble beginnings, UVES has grown into a respected institution, adapting to the changing healthcare landscape and expanding its services to meet the growing needs of the community.
Early Years
The journey of UVES began on a fateful day in 1970 when a community member fell on a sidewalk, suffering a broken hip, and enduring a prolonged wait for help. Recognizing the urgent need for an ambulance service in Union, a group of passionate individuals united and formed the Union Volunteer Emergency Squad in 1972. After months of rigorous preparation and training, UVES officially commenced operations on June 1, 1973.
Initially, UVES focused on serving the Town of Union, which accounts for approximately 80% of our work. However, our dedication to helping those in need extended beyond geographical boundaries, as we respond to emergency calls from anywhere we were needed. With a relentless commitment to our mission, UVES quickly gained a reputation for being fast-paced, efficient, and dedicated to providing timely assistance.
Growth and Adaptation
As UVES became an integral part of the community, the demand for our services surged, and we found ourselves handling an increasing number of emergency calls. Responding to this growing need, UVES expanded our fleet and transitioned from two full-time trucks to operating five trucks daily. To ensure our ability to meet the rising demand for services, UVES also increased our full-time staffing and continued to actively seek new team members.
We recognized the importance of keeping up with advancements in healthcare, so we embraced the introduction of advanced life support (ALS) techniques. With the integration of paramedics trained in advanced life support, UVES extended our capabilities to provide comprehensive emergency care comparable to that of a hospital setting. The ability to administer critical care on-site greatly improved the chances of saving lives, highlighting our unwavering dedication to preserving life in even the most dire circumstances.
A Community-Centered Approach
UVES firmly believes that our responsibility extends beyond responding to emergency calls. Over the years, we have developed and implemented several community outreach programs aimed at improving public health and safety. These initiatives include CPR training, a fall prevention program, car seat installations, and the senior-focused Carfit program. UVES understands that equipping community members with life-saving skills and offering preventive measures can have a profound impact on reducing emergencies and enhancing overall well-being.
Our Impact
The impact of UVES on the community cannot be overstated. With an astounding annual response rate of over 11,000 calls, we have been a constant source of support for the town's residents during their most challenging moments. Our commitment to providing timely assistance has saved countless lives and brought comfort to many families. Such a high volume of emergency response calls naturally comes with significant costs. However, through the generous support of community partners, donors within Union, and the town itself, UVES has been able to sustain our life-saving operations.
Looking Ahead
As UVES celebrates our 50th anniversary, we also look toward the future. The ever-evolving healthcare landscape presents new challenges and opportunities. We recognize the need for continued growth and adaptation to meet the changing demands of the community. With a forward-thinking approach, we acknowledge the emergence of community paramedics who will play a pivotal role in addressing primary care needs. By providing essential services and partnering with other healthcare providers, UVES is poised to continue making a significant difference in the lives of Union's residents for the next 50 years.
For decades, the Union Volunteer Emergency Service has been a trusted ally, ensuring that the people of Union receive the best care possible during their times of need. From our modest beginnings in 1973 to the multi-faceted emergency service we are today, UVES has grown and adapted, embracing new techniques, expanding services, and actively engaging with the community. Our unwavering commitment to excellence, dedication to ongoing education, and focus on saving lives have cemented our place as a vital institution in Union. As we reflect on the past and look to the future, one thing remains certain – UVES will continue to be there, providing life-saving care and support, as we've done for the past 50 years.